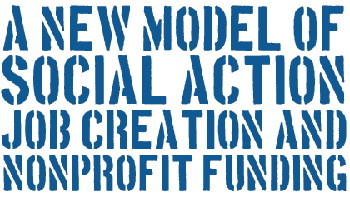 The Latino Union and the Chicago Coffee Confederation share a motivation to support the rights of low-income immigrants in Chicago. These organizations are committed to generating a project – Café Chicago – that addresses issues of economic injustice while spurring a movement towards self-determination and empowerment among the city's most vulnerable residents, the day laborers who congregate by the hundreds on the city's street corners seeking work. Café Chicago seeks to address real and growing economic and social failures within our society.

Café Chicago is a worker-made, worker-run cooperative that roasts, packages, and distributes great tasting, fair trade, organic coffee in the Chicago area. With a new model of job creation, job training, and social action that create living wage jobs and provide training in coffee roasting and cooperative management, the for-profit Café Chicago also funds the social justice organizing of Latino Union at a time of dwindling non-profit funding.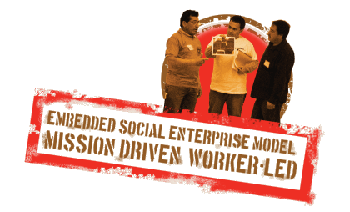 Café Chicago utilizes the mission-centric embedded social enterprise model that locates enterprise activities within the Latino Union's community organizing work and is central to its mission of developing the tools necessary to collectively improve social and economic conditions for low income, immigrant workers. Café Chicago is being incorporated as a for-profit venture, with profits going fully to fund the work of the Latino Union.

GRASSROOTS MARKETING: Marketing educates the public about the day labor movement, the positive community impact of purchasing the coffee, and the social benefits of fair trade, worker cooperative purchasing.
LOCALIZED DISTRIBUTION: Coffee is directly sold to local restaurants, community organizations, and progressive Chicagoans who want their purchases to go beyond fair trade and organic to promote movement building and social change.
JUST AND QUALITY COFFEE: In addition to freshly roasted, delicious tasting coffee, Café Chicago products incorporate environmentally friendly, socially responsible practices in all steps of the process.
POSITIVE SOCIAL IMPACT: Café Chicago integrates international solidarity, leadership development, worker organizing, and self-determination into its cooperative model to enact change that improves the lives of the poor locally and internationally.
FINANCIAL SUSTAINABILITY: By combining low-income job creation and training with a Workers' Center earned income program, Café Chicago strengthens its impact through self-sufficient fundraising that supports a broader community of day laborers.
PRESS
ABC
Latin American Tribune
AREA Chicago
Worldview
Time Out Chicago