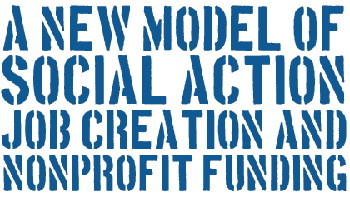 Sixteen years ago, a group of women from the temp labor industry came up with a vision to help find solutions to the abusive working conditions they and other workers confronted. They founded Latino Union as a mechanism for individuals like themselves to come together and collectively develop the tools necessary to improve their social, economic and labor conditions.
From the beginning, they established clear principles and values for the organization's future leadership to follow. One such principle is self-sustainability, ensuring that movements can last in the long term and are not dependent on outside funders or on only one source of revenue.
Ever since the day we reached one of our most important milestones, the founding of the Albany Park Workers' Center in 2004, we have continued to evolve our analysis of the importance of self-determination through self-reliance and self-sustainability. The Workers' Center became a space for Latino Union's members and leaders to explore ways of sustaining social movements.
Five years ago, with the support of volunteers, staff and allies, a group of day laborers and domestic workers took another major step toward enacting these principles by starting Cafe Chicago. The past five years have been an incredible journey for all of us at Latino Union. We saw the incredible development of new leaders, the spark of a local and national coop movement within communities of color and shifts in our own understanding of what "organizing" in our communities means. As a result, Latino Union as an organization has evolved.
Two years ago, as we approached our 15th anniversary, we began planning for how Latino Union would continue to sustain itself for another 15 years. This included updates to programs, staffing, board of directors and organizational priorities, though we remain grounded in the original principles and values created by the founders 16 years ago.
We have very big plans for our future and for projects like Cafe Chicago, but in order to reach our big vision we have to first prepare the organization to handle those plans.
In the meantime, the organization's membership – Café Chicago members, day labor workers from the street corners and the Albany Park Workers Center, and domestic workers – will embark on a long-term strategic planning process to lay out the steps for growing and expanding in the future. We are really excited to put our pens to paper with the incredible ideas of Latino Union's members and staff, and to create a clear plan to make those ideas a reality.
Therefore, starting on Jan. 22, Café Chicago will be taking an extended break. We will not be taking coffee orders and will instead focus our attention internally for a deep reflection and strategic planning process – then, we will take action on our plans.
Although we will not take orders, Café Chicago's values of entrepreneurship, cooperation and economic justice are still very much alive at Latino Union. Over the years, we have incorporated these values in our workforce development and leadership development trainings. And we will continue to carry these principles forward as we expand our living-wage hiring hall program, housed at the Albany Park Workers Center, to include domestic workers; and launch the Lisa Thomas Leadership Development Institute, a two-day organizing and advocacy training for day laborers and domestic workers.
We will keep everyone posted about our beautiful journey towards self-sustainability and about Café Chicago's long-term plans. Thank you all so much for the incredible support and being a part our amazing path so far. We invite you to attend our open house events held at 11 a.m. on the first Saturday of every month, where you can see first-hand the projects that inspired ideas like Cafe Chicago, and learn about how our work continues to evolve.
The Latino Union and the Chicago Coffee Confederation share a motivation to support the rights of low-income immigrants in Chicago. These organizations are committed to generating a project – Café Chicago – that addresses issues of economic injustice while spurring a movement towards self-determination and empowerment among the city's most vulnerable residents, the day laborers who congregate by the hundreds on the city's street corners seeking work. Café Chicago seeks to address real and growing economic and social failures within our society.

Café Chicago is a worker-made, worker-run cooperative that roasts, packages, and distributes great tasting, fair trade, organic coffee in the Chicago area. With a new model of job creation, job training, and social action that create living wage jobs and provide training in coffee roasting and cooperative management, the for-profit Café Chicago also funds the social justice organizing of Latino Union at a time of dwindling non-profit funding.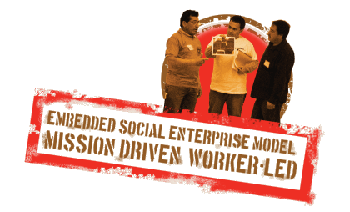 Café Chicago utilizes the mission-centric embedded social enterprise model that locates enterprise activities within the Latino Union's community organizing work and is central to its mission of developing the tools necessary to collectively improve social and economic conditions for low income, immigrant workers. Café Chicago is being incorporated as a for-profit venture, with profits going fully to fund the work of the Latino Union.

GRASSROOTS MARKETING: Marketing educates the public about the day labor movement, the positive community impact of purchasing the coffee, and the social benefits of fair trade, worker cooperative purchasing.
LOCALIZED DISTRIBUTION: Coffee is directly sold to local restaurants, community organizations, and progressive Chicagoans who want their purchases to go beyond fair trade and organic to promote movement building and social change.
JUST AND QUALITY COFFEE: In addition to freshly roasted, delicious tasting coffee, Café Chicago products incorporate environmentally friendly, socially responsible practices in all steps of the process.
POSITIVE SOCIAL IMPACT: Café Chicago integrates international solidarity, leadership development, worker organizing, and self-determination into its cooperative model to enact change that improves the lives of the poor locally and internationally.
FINANCIAL SUSTAINABILITY: By combining low-income job creation and training with a Workers' Center earned income program, Café Chicago strengthens its impact through self-sufficient fundraising that supports a broader community of day laborers.
PRESS
ABC
Latin American Tribune
AREA Chicago
Worldview
Time Out Chicago